Let me start by telling I use Mac's since mmm 1988?

Somewhere those years in any case. Why oh why ?? Simply because my brother being a graphical fellow loved those machines and wanted one when he started his business and since the other branch of the company needed also something to work on …. we started with a Mac and a Mac Plus for him. For sure the younger ones will have a hard time to imagine what it was to work with those 🙂  Imagine 128 KB ram .. « kilo » not mega nor giga … kilo's …, 6 Mhz CPU … sound heavy no ? Those days we had system 1 to 9 (from ok to ouch buggy). We changed machines several times over the years till I moved to another country.  I tried a few years to live with Microsoft (no that didn't last long, 98 -> NT …) moved to  Fedora (Linux … that didn't last long neither but I learned a lot of terminal, serves me a lot today)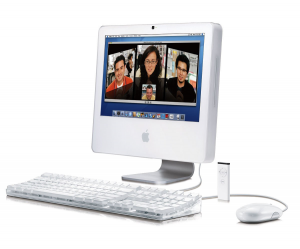 Several months later and a lot of $$$$ less I came back to the Mac world with a first gen intel iMac. That machine ran for years and years. Yep it had the screen issue where you ended with rasta lines all over the place. Even out of warranty, Apple did replace the full beast free of charge. I remember my argumentation that an Apple computer wasn't a cheap PC thing and a dead screen was just not acceptable … it worked lol.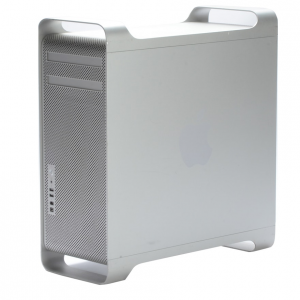 And one day, pure luck I cross an advertising from a fellow selling his MacPro 1.1 with a 30″ Apple Cinema Display for dimes. Story short I rushed in the car and got it 🙂 I modified it to a 2.1, added ram over the years etc and used it for over 10 years till earlier this year (though the display is still in use as I can't find something at the same standard at a reasonable price for now).  I have no clue how many hours this 😍 monster has been running over the years but it is still a working machine. We did so many photo edits … surfing, ….
So why did I decide to change ?
Over time Apple decided that the hardware is obsolete and you can't upgrade the system anymore .. over the same period some software becomes obsolete also and you can't upgrade anymore for latest options/fixes …. new hardware with connectivity you just don't have ….. and you start wondering. Yes I hacked the beast so I could up it to El Capitan… and that was latest I could do.
So you start to look at the Apple website, start looking at specs … you read all the Mac freak sites … you look at prices and there yo go 😱 ! You wait for the next machines to release, you hope … rumours about a new MacPro … you see the keynote and then you realise 😨😰😢😥😪😭 no way I'll ever buy that … just way but way to $$$$$$. And then you remember hackintosh … last time I played with that was years ago … and honestly what a failure …
But as weeks went, I started to look again in the hackintosch world, spend hours and hours looking online videos, read I don't know how many sites, digged upside down Tonymacx86.com and started the list : what hardware, what software ..
Hell isn't there something easier?
Going over and over all the bits and pieces to get compatible hardware (yes that's the basic for a working hackintosch, get all compatible parts … ) … there is always something wrong …
Guess I sp

end about 6 months going over all kinda sites, video channels and I ended on the channel of this lady .. her YouTube channel has a very nice list of topics all related to hackintosch. From how to create the USB installer, Clover … and what is even more interesting … full details about pre tested hardware combinations with the things you need to install it and boot in a few hours after the build.  I took the time to look at each video and finally I started to see the light since I got clear explanations to what is a vanilla installation, why some hardware … how to get continuity working, imessage etc etc.
After some more thinkering, calculating … spec reading I went for the 14-core iMacPro Killer | Ultimate Hackintosh Build 2019. As I do quite some photo and love to develop my raw files in several ways with different software, I opted for some power but not the extra speedy ram and video card (took a Sapphire 11265-01-20G Radeon Nitro+ Rx 580 8GB GDDR5 ). Decisions that would make life less easy I learned afterwards.
But nope the story doesn't stop here.
Teresa does offer paid personal support if you are really really stuck. She does give advice on a general note but as she says, it is just impossible to test every single combination of hardware. As I wrote just before, I did not follow 100% the list of parts and I ended with a 95% working hackintosch. Though I tried many hours to solve the imessage problem and a non working BT keyboard … I decided to go for help. Yes it is paid. Is it expensive?  … the eternal question with no real answer. All depends on how hard you depend on your machine and also what you earn. For me it isn't expensive as we live in the same continent and wages are equal but for someone in deep Africa, it'll be very expensive …What she asks pro hour is low for western countries, and you'll save lots of your free time and a headache 😃. Again all depends on circumstances. Is she good at it ?  simple answer is YES. She knows her way in the hackintosch world and as long as the connection is fast (sorry Teresa 😌) she works fast. She takes control of your machine remotely if needed and does her magic.
Conclusion
My hackintosch is now 100% working and vanilla so I was able to upgrade to latest Mojave like on any other Mac. Push the button, wait and reboot …. done ! Will it break someday , most probably as no one can predict what will be next, but today Teresa has already tested the beta's for Catalina and once it is official, for sure the video tutorial will be ready.